Indigenous – Blues at the Bohm 8th Anniversary Show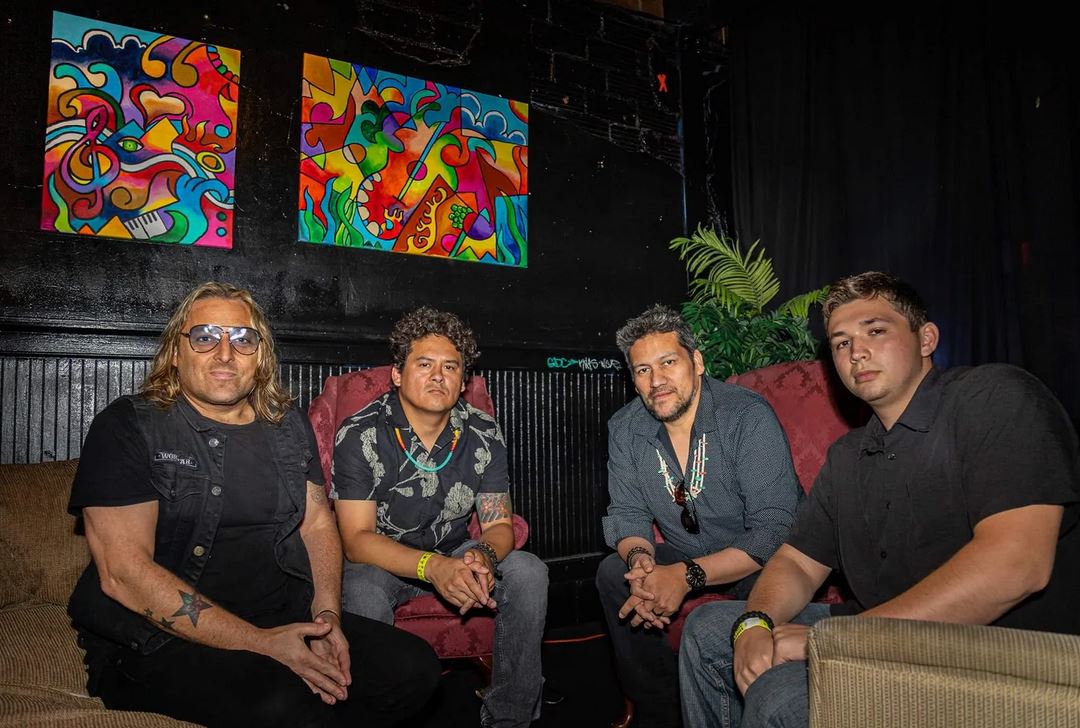 Indigenous
March 6 @7:00 PM
Join us as we celebrate the 8 years of bringing the Blues to Albion.
Born and raised on the Yankton Sioux Reservation in South Dakota, Indigenous front man Mato Nanji (Ma-TOE NON-gee) dedicates his latest release Time Is Coming (on Blues Bureau International) to the indigenous youth and all young people on the indigenous reservations.
Mato Nanji's father, the late Greg Zephier, Sr., was a well-known and highly respected spiritual advisor and spokesperson for the International Indian Treaty Council. In addition to this leadership role, he was an accomplished musician and a member of the musical group, The Vanishing Americans. Formed by Greg and his brothers in the '60's, The Vanishing Americans toured nationally and shared bills with such legends as Bonnie Raitt. Besides being heavily influenced by the music his father and uncles were making, Mato was exposed to Greg's vast collection of blues records by legendary artists such as Jimi Hendrix, Stevie Ray Vaughan and B.B. King. Consequently, Mato embraced and began utilizing his own musical talent at a young age. With the experience, love and wisdom of their father to guide them, Mato, his brother, sister and cousin formed the band Indigenous while in their late teens.
After much time invested in practicing and building a following, they began touring extensively across the country. In 1998, they released their award winning debut album Things We Do. The title track's video, directed by Chris Eyre (Smoke Signals), won the American Indian Film Festival Award and was shown at the prestigious Sundance Film Festival. Indigenous' music caught the attention of blues icon B.B. King and the young band was invited to play on his annual B.B. King's Blues Tour in 1999. Sadly, Mr. Zephier would pass away before seeing his children receive this great honor.
With momentum gaining, Indigenous' 2000 sophomore release, Circle, was produced and arranged by Stevie Ray Vaughan's longtime friend and collaborator, the late Doyle Bramhall, Sr. Three more cds; Fistful of Dirt (2002), Indigenous (2003) and Long Way Home (2005) would follow before the 2006 decision by the siblings to 'disband' and pursue their own musical paths but Mato carried on with the Indigenous band name. "Playing with my family for 10 years was a lot of fun, but it was time to grow and keep moving forward."
Mato continued touring and in 2006 released Chasing The Sun. Two of the cd's songs, "Come On Home" and "Leaving", were featured on the hit Discovery Channel show The Deadliest Catch. "Come on Home" was also featured on FX's Sons of Anarchy.
On 2008's Broken Lands, an intensely personal record, Mato and Leah, his lyricist and wife, pay tribute to his Native heritage. The album decries the poverty, isolation and reality of life on the reservation with "Place I Know." The album gains its title from the line, "all is lost in these broken lands."
Of The Acoustic Sessions (released in 2010), Mato commented, "It's a collection of some of my favorite songs that celebrate 10 years of releasing albums. Every song that I have ever written began with the acoustic guitar, so it only felt natural to create an acoustic album."
Indigenous featuring Mato Nanji (2012) would mark Nanji's debut on the Blues Bureau International label and the beginning of his collaboration with noted producer, Mike Varney. Joining Mato on the disc's opening track "Free Yourself, Free Your Mind" is the soulful Jonny Lang. On it, the two guitar-masters trade vocals and guitar solos. It's truly a blues lover's 'match made in heaven'.
In addition to his Indigenous 'day job', Mato Nanji has been a member of the critically acclaimed Experience Hendrix Tour since 2002. Playing alongside original Jimi Hendrix band members Billy Cox and the late Mitch Mitchell, the tour roster includes some of today's blues greats including Buddy Guy, Chris Layton and Tommy Shannon (Double Trouble), Jonny Lang, Kenny Wayne Shepherd, Eric Johnson, and Robert Randolph.
Once the 2012 Experience Hendrix Tour concluded, Mato and fellow EHT tour mates David Hidalgo (Los Lobos) and Luther Dickinson (North Mississippi Allstars) would collaborate and release the hard-driving, psychedelic blues-infused 3 Skulls and the Truth (Blues Bureau International) disc. The album's no-holds barred setting is the ideal foundation for the three veteran axemen to simply 'let it fly'.
February 2013 would bring the Mato Nanji-inspired release from trance-blues artist Otis Taylor, My World Is Gone (Telarc). Mato and Otis explore the plight of the American Indian people in a lightning bolt of musical creativity and social commentary. "Mato inspired the entire direction of this album," says Taylor. "We were talking about history backstage at a Jimi Hendrix tribute concert he had just played, and, in reference to his people, the Native American Nakota Nation, he said 'My world is gone.' The simplicity and honesty of those four words was so heavy, I know what I had to write about."
"My dad was my favorite musician so he really influenced me a lot with everything. I just felt it was time to pay tribute to him and his band," says Nanji. That tribute, Vanishing Americans, was released on May 21, 2013 and promptly found its place on iTunes Top 10 Blues Chart. Blues Rock Review (6/5/13) said: "each song is brought together with heavy and powerful guitar riffs akin to those of Carlos Santana and Jimi Hendrix, while bellowing, raspy vocals turn a talented guitarist's vision into a relatable song for many, just as any praiseworthy blues album should."
"Mato continues to refine his guitar and vocal vocabularies with each new release and is also expanding his songwriting skills with his wife Leah," said producer Mike Varney of Time Is Coming (May 2014). From the infectious opening track of "Grey Skies"; the Soundgarden/Rage Against the Machine influenced "Won't Be Around No More"; and the gut-wrenching blues of "Don't Know What To Do", and at all points in between, Mato Nanji "tears at his guitar strings, bending and shaking them to within an inch of their life, it is clear that he is no mere copyist. He is a genuine virtuoso…" (Rhys Williams, bluesblastmagazine.com 5/14).
Ultimately, Mato dedicates Time Is Coming, to the Indigenous youth and all young people on the Indigenous reservations. Of the song says Nanji; "still to this day, the struggle continues to just live in peace. Growing up here on the reservation I've seen a lot of broken families…broken homes. I feel our families' "Tiospaye" are the core of what makes us who we are. Now family and its meaning is not as strong as it used to be for our people…almost non-existent. So I send my heart and soul out to the indigenous children having a tough time in their lives and in their homes. This record is inspired by them and made in their honor. I hope for the best for all. Tomorrow is another day."
The Plateros, a three piece award winning family band from the Navajo Nation in Tohajiilee, New Mexico consider Mato Nanji and Indigenous one of their greatest musical influences.
Levi and The Plateros played their first show, a festival in Bird Springs, AZ in December 2004, and by April 2005, they would find themselves onstage performing at the largest PowWow in the world, The Gathering of Nations. Lead guitarist Levi, with his natural born talent, slid across the stage with power chords and screaming blues that amazed the packed crowd. He was just 13 years old.
In the years to follow, Levi, along with his cousins Douglas Platero on drums and Bronson Begay on bass would receive numerous nominations for native music and video awards, and their cd Hang On would take home a win for Best Blues Album at the 2009 New Mexico Music Awards.
In 2012, they joined Indigenous for The Kinship Tour, with The Plateros opening the double bill. They would join Mato for blistering encores that would bring the proverbial house down.
Touring in support of Time Is Coming in the summer of 2014, Mato Nanji would once again call on Levi, Douglas and Bronson to hit the road with him. This time, though, would be different. They would be onstage as Indigenous' rhythm section; Mato and Levi trading leads and solos while Bronson and Douglas provided the strong, stable rhythmic foundation that allowed the two guitarists to 'tear it up'.
As the band made its way across the east coast, the after show buzz was audible. The incendiary chemistry of Mato Nanji, Levi Platero, Bronson Begay and Douglas Platero innate.
They are Indigenous.
Admission: $10 | Tickets Here